Manual Index
Chapters

The Manual is divided into six chapters. Click a chapter title to display that chapter's table of contents in the area below.

Chapter One

Intro & General Info
PSYBooks Manual
Chapter One
How to Use the Manual
PSYBooks is designed to be as user-friendly as possible so you may never need to consult this Manual. If you DO need to look something up, the easiest thing would be to use the Search tool at the top. However, if you want a more in depth understanding of the program, you can use the left nav on this page to navigate to the section you want.
To best use the left nav, it may help to understand how the Manual is organized. The Manual is divided into six chapters:
General Info
Charts & Main Tools
A Client Chart
Tools
Libraries
Calendar
Chapters 2, 4, 5 and 6 correspond to these sections of the Global Nav:

Chapter 3, A Client Chart, is actually a subsection of Chapter 2, Charts. The client chart is given it's own chapter since that's where you'll spend most of your time.
Within each of those broad sections, you can find information on all tools and tables in that section and also a general description of how things work. Clicking the chapter name on the left nav will load the detailed index for that section. From there, you can click on the specific item you want to view.
There is also an entirely separate section that discusses the Portal.
Getting Started with PSYBooks
There is no right or wrong way to get started in PSYBooks. However, the following list may help you get up and running in the least amount of time:
Vocabulary
Global Nav

The term global nav stands for 'global navigation' and is a general phrase to describe the main level of navigation in any website or application. In PSYBooks, the global nav is the blue navigation bar at the top of each page:

As you can see from the global nav, PSYBooks has five main sections:

Charts
Calendar
Reports
Libraries
Help

Local Nav

The term local nav stands for local navigation and refers to links used to navigate to various sub-sections within a global nav section of a website. You might think of a global nav item as being a state, whereas the local nav would be the main cities within that state. PSYBooks has more than one way to display local nav items. When you're in any of the global nav areas, the local nav sections are indicated by the tabbed items. Clicking on a tab will take you to that section:

Another way to see local nav items is to hover over any global nav item. The local nav will appear on a drop-down menu like this:

Notice that in this example, we're actually IN the Charts area, but we have our cursor over Libraries in the global nav, which enables us to see the local nav of Libraries. If we wanted to go to one of the Libraries sub-sections (e.g., Medications), we could just click the blue Medications bar in the Libraries local nav dropdown.

Left Nav

Almost all pages in PSYBooks have a left nav ('left navigation'). The left nav holds tools or links that you will need for completing tasks on that page. Some left navs are quite long (for example, the index of the Manual in the Help section - where you are now). Others are very short with only one or two tools. Some examples of left navs in the various sections are below:

Breadcrumbs

A common way of describing a location in a website is to use "breadcrumbs". Breadcrumbs display hierarchial levels in a site separated by the > sign. Often in the Manual, you'll see things like, "Libraries > Medications". This would refer to the Medications sub-section of the global nav Libraries item.

Status Indicators

A status indicator is a new element or a change in an existing element to help you know where you are. Status indicators help you get your bearings in a website the way a highway sign or an address help you find your way when traveling. For example, the lighter blue outlines around items in the global nav are one type of status indicator:

Additionally, the name of the section you're in appears in orange script on the right side of each page:

Local nav items are often displayed as tabs. The status indicator here is whether the tab appears to be the one on top, or whether it's in the background. In the screenshot below, the user is in the Insurance Companies section of the Libraries:
Notes in PSYBooks
Types of Notes

Almost all forms in PSYBooks have a section where you can enter notes. Although most notes that pertain to clients become part of the client's medical record, PSYBooks also gives you the opportunity to write personal psychotherapy notes that are not part of the medical record. Also, within the notes that ARE part of the medical record, PSYBooks breaks them into two categories: clinical medical record notes and admin medical record notes. This is done to allow you to give permission for a User to see one type of note but not others. For example, you might want your front office staff to be able to see your admin medical record notes (e.g., a note you might have attached to a client payment), but not your clinical medical record notes or your personal psychotherapy notes.

Most of the note types are assigned by PSYBooks, with notes that are more likely to contain sensitive information being in the clinical category, whereas notes that might be more administrative in nature (such as those pertaining to payments, claims, etc.) being categorized as admin notes. However, there are several notes where the user can choose whether to make them part of the medical record or whether you'd rather write a personal psychotherapy note. The various note types in PSYBooks are as follows:

Always in the Medical Record > Clinical category

Add/Edit Intake
Add/Edit Mental Status Exam (MSE)
Add/Edit Progress Note
Add/Edit Treatment Plan

Always in the Medical Record > Admin category

Add/Edit Adjustment
Add/Edit Authorization
Add/Edit Client Payment
Add/Edit Client Payment Allocation
Add/Edit ERA
Add/Edit Client Insurance
Add/Edit Insurance Payment Allocation
Add/Edit Resubmit Claim Note

Can be in Medical Record > Clinical or Psychotherapy categories (choice made by user):

Add/Edit Client
Add/Edit Session
Add/Edit Client Family
Add/Edit Client Medication

Always in the Psychotherapy (Personal) category

Notice that when the four notes that can be either psychotherapy or medical records notes are used as medical record notes, they are in the clinical subcategory. This means that the Medical > Clinical note set has a total of eight possible note types: four that are always Med > Clin (Intake, MSE, Progress & Treatment Plan) and four that may be Med > Clin (Client, Session, Family & Client Med). Similarly, the Psychotherapy note set has a total of five possible note types: one that is always a Psych note (Open-Ended) and four that may be Psych notes (Client, Session, Family & Client Med).

No need to try to remember the categories. Each note tells you what kind of note it is right on the form such as can be seen in this client medication form:

Notice in the gray bar that begins the Notes section of this form, there's a phrase at the end of the row that says "Unsigned medical record note." If you used the radio buttons at the bottom to change the note to a personal psychotherapy note, the phrase in the gray bar would change to "Unsigned psychotherapy note". If you signed the note by checking the Electronic Signature checkbox, the phrase would change to "Signed medical record note" or "Signed psychotherapy note".

If the note types seem overwhelming, remember that they are only meant as user-aids. If you have no need to differentiate between psychotherapy notes and medical record notes - or between clinical medical record notes and admin medical record notes, you don't need to worry about note types at all.

Note Edits & Revisions

Unsigned notes can always be edited in PSYBooks. In this case, editing means exactly what you think it would, i.e., the original note is replaced with the new one. Once a note has been signed, you can no longer overwrite the original note. However, you can always add a revision. Adding a revision saves both the original note and the revision.

Whether you're editing an unsigned note or creating a revision, the mechanism for doing it is the same. In many cases, you can type in the textarea itself and at other times, a small popup window will open to allow you to make the edits.

Edits will overwrite the original note in the client's Notes tab. Revisions are similar but both the original note plus all revisions are displayed. The original signed note is always shown first, then revisions are underneath. Revisions are indented and have a gold scroll at the left edge to help differentiate them from original notes. Notice that each time a note is signed - even when what's signed is a revision - it creates the situation where that note or revision can no longer be edited (overwritten) and a new revision must be created. For this reason, it's possible to have more than one revision attached to a single note as can be seen in the example below:

Mark Important/Show Important

Each note in PSYBooks has a checkbox with an exclamation point that allows you to mark that note as important: The mark important checkbox is typically at the end of the signature, like this:

Checking the mark important checkbox will allow you to easily view important notes on the Notes tab of the client's chart. In the Show Notes section of the Notes tab, there's a 'show important' checkbox you can check to show only notes you've marked as important:

These two features - mark important and show important - complement one another. Together, they allow you to flag notes throughout the application - both medical record notes and your personal psychotherapy notes - so you can easily pull them up when you want to view them. The mark as important tool is a toggle, which means you can have a note marked important for awhile and then unmark it when you no longer need it.
HIPAA/HITECH
There are no HIPAA compliant products or services, because by definition, only HIPAA covered entities (e.g., you) and business associates (e.g., PSYBooks) can be compliant. In other words, it's not a product or service that's compliant, it's how you, as a covered entity, or we, as a business associate, write and implement our policies and procedures.
That being said, however, if your practice management system doesn't provide you with the proper tools, it may make your compliance difficult, if not impossible. PSYBooks works diligently to assure that we are in compliance with HIPAA and also that we provide the technical features and functions that facilitate your own compliance. For example:
PSYBooks logs all activities that take place in your account so you'll be able to easily give an accurate accounting of who has accessed your clients' PHI and what actions they took.
PSYBooks provides you with flexible, easy-to-use PHI Reports.
PSYBooks gives you 5GB of free file storage that is encrypted both in transmission (i.e., when you upload your files) and also at rest. This can enable you to maintain your entire HIPAA/HITECH compliance repository within PSYBooks.
PSYBooks allows you to create user accounts and limit the user's access to the specific tasks and/or clients they need to perform their duties.
If you are in need of HIPAA compliance products, templates, training, etc., we recommend you review the HIPAA Survival Guide ("HSG") Store. Carlos Leyva, the author of these materials, is an attorney who specializes in HIPAA/HITECH and digital law.
How PSYBooks Handles Deletions
In general, it's not a good idea to make deletions in a patient's medical record, and in fact, it's often illegal. However, there are times (for example, if you accidentally make an erroneous entry) when it is helpful to delete certain items to keep your records more accurate. The way PSYBooks handles this is that although you are allowed to remove almost anything you've entered in a client's chart, the information is not really deleted. The removed information is kept in the Activity Log in the Reports section for a period of ten years and can be accessed at any time. This accomplishes the joint goals of maintaining complete medical records without deletions while also giving you control over what you actually see in your clients' charts.
Additionally, when you do decide to delete an item, you're given a textarea that allows you to enter your reason for deleting. For example, if you mistakenly enter a payment in the wrong client's chart and then try to delete it, you get this window: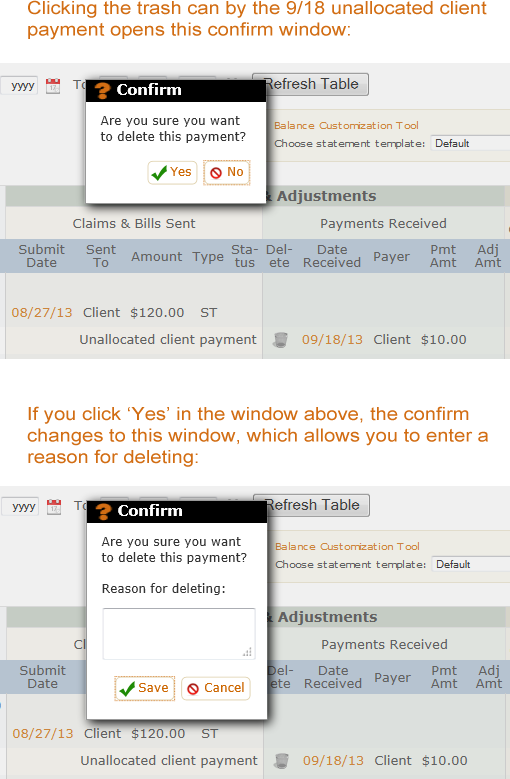 If you enter a reason and then click "Save", you can go to Reports > Activity Log and run a current report. You'll see the deleted item listed with an orange link in the Description column:

Clicking on the Deleted client payment link in the Description column opens the window below. Notice that the reason the user wrote in the 'Reason for deleting' textbox is displayed here along with all pertinent information about the payment that was deleted: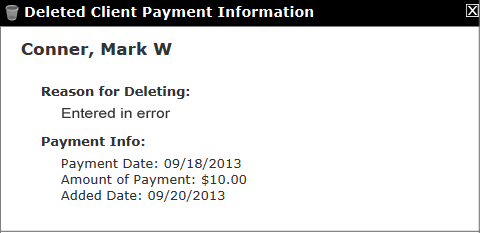 Fees for Non-Par Efiling
Posted February 12, 2019
Office Ally just informed us that PSYBooks won't be billed the per subscriber Non-Par fees until March 1, which is a month later than we first thought. As previously mentioned, once we get our invoice, it will take some time to notify each of you. However, for those who have been concerned about this, I wanted you to know nothing will be happening for another month.
Posted January 24, 2019
We have a bit more information. First, subscribers who efile eleven or fewer claims in a given month (Par and/or Non-Par) will not be charged. In other words, what we've been told is that low volume efilers are not going to have to pay Non-Par fees, even if all eleven claims are to Non-Par companies.
If you do incur Non-Par fees for a given month, we're all still in a "wait and see" mode as to exactly how it will be implemented. However, this is the plan we're hoping to put in place:
Office Ally will bill PSYBooks on February 1. At that point, we'll go to work extracting the data they send us so we know which ones of our subscribers incurred the $35 fee in January. Our plan is to send you a notification ahead of time when you will have a Non-Par charges and then just add the $35 to your next regularly scheduled payment to PSYBooks. In other words, your PSYBooks account will be charged after the fact. However, there are many details to be ironed out so please bear with us for the first few months as we work on refining the system.
Posted January 15, 2019
Office Ally has notified us that, beginning February 1, they will begin charging $35.00 per month for any provider who submits more than 50% of their efile claims to what's called a "Non-Participating" or "Non-Par" insurance company. We are currently in negotiations with them to see if we can at least get an extension on the deadline and possibly some considerations for low-volume subscribers. We'll keep you posted as soon as we have more definite information, but in the meantime, here's some additional information that may be helpful:
What is a Non-Par company?
Historically, clearinghouses were paid per claim by insurance companies - that's how they made their money. However, one of the requirements of The Affordable Care Act is that insurance companies spend at least 80-85% of their premium dollars on medical care. As a result, insurance companies began looking for ways to cut costs and some have opted to no longer pay clearinghouses for processing their claims. In other words, they are "non-participating." Clearinghouses such as Office Ally can still process Non-Par claims, they just don't get reimbursed by insurance companies for doing so. As a result, they will begin charging those providers who use Non-Par companies directly.
How Do I Find Out if My Insurance Companies Are Non-Par?
In the beginning, most Non-Par companies were Federally based, such as Medicare and Medicaid. However, more recently, some other companies have become Non-Par. You can check Office Ally's Payer List Tables to check your insurance companies. Once you find your company, there's a column called "TYP" that will have either a "P" or an "NP" in it. NP listings are insurance companies that are Non-Participating. If more than 50% of the claims you file in a given month are Non-Par, you will be charged the fee.
How Will I Be Billed?
We're not sure yet, but we'll get this information to you as soon as we have it. This has all happened very quickly, leaving us busily searching for answers and the best ways to implement the new policies.