Manual Index
Chapters

The Manual is divided into six chapters. Click a chapter title to display that chapter's table of contents in the area below.
PSYBooks Manual
Chapter Seven
Intro to PSYBooks Mobile
What this is

The PSYBooks Mobile app is designed to work on mobile devices, primarily smart phones. Although based on the data in your regular PSYBooks app, PSYBooks Mobile is a completely different app. To access the login page of PSYBooks Mobile, enter this URL in your mobile browser: https://mobile-secure.psybooks.com. Use the same login information you use in your regular PSYBooks app to sign in to PSYBooks Mobile.

What it looks like

The home screen of PSYBooks Mobile looks like this:

Where this is

PSYBooks Mobile is found at:

https://mobile-secure.psybooks.com
◊◊◊◊◊◊◊◊◊◊◊◊◊◊◊◊◊◊◊◊◊◊◊◊◊◊
What Is PSYBooks Mobile?
The PSYBooks mobile app is a separate application for your phone that has the PSYBooks tools you are mostly likely to need when you're on the go. It is not the complete PSYBooks app. Unlike most mobile apps, you don't have to go to an app store and download PSYBooks Mobile. Instead, the app is built with a new technology called Progressive Web Apps – or PWAs. Although PWAs can be accessed with laptops, desktops, tablets, etc., they work especially well on phones. They are quickly becoming extremely popular. In fact, you may be using some PWAs without knowing that you are. For example, well-known apps like Twitter, Pinterest, Spotify and Instagram all currently run PWAs in addition to their regular apps. The PWA technology allows developers to build an app that looks and functions like a mobile app that you'd download from an app store, except that there's nothing to download. And they're FAST. They have that almost instantaneous response time that you're used to with mobile apps.
Instead of downloading, you access PSYBooks Mobile with your browser, like you would any other website. Internally, much of the processing that's typically done via the Internet or a cellular connection is done within the PWA itself, so PSYBooks Mobile will work reasonably well even when the Internet connectivity is less than desirable. Also, because it's an online app instead of a downloaded one, you're not tied to that one phone. If your phone is lost or stolen, you shouldn't have to worry about a HIPAA breach (assuming that your phone is appropriately protected and/or that you have not saved your PSYBooks username and password in your browser). Also, when you get a new phone, there's nothing to install. Just enter the URL in the new phone's browser, log in to PSYBooks Mobile, and you're good to go.
Because there's nothing to download, if you currently have a PSYBooks account, then you already have a PSYBooks Mobile account. This means that any of the Portal Users on your account, as well as your Admins and other Users can also access their versions of PSYBooks Mobile. This will allow you to interact with all of your Contacts via cell phone in ways that are all HIPAA compliant and secure (including encrypted texting). For anyone with a PSYBooks username and password, e.g., Subscribers, Clients, Persons, Users - it's just a matter of opening their phone's browser, navigating to the PSYBooks Mobile website (https://mobile-secure.psybooks.com) and logging in with their unique log in credentials.
How to Access PSYBooks Mobile
The PSYBooks Mobile app lives at a completely different URL than the regular PSYBooks app. That's because it's a completely different website. However, even though the two sites have different URLs and don't look alike, what makes them work together is that they both pull data from the same database. Because of this, data you enter in one automatically appears in the other. In other words, data entered on your regular PSYBooks app will populate your PSYBooks Mobile app and vice versa. You don't have to enter it twice: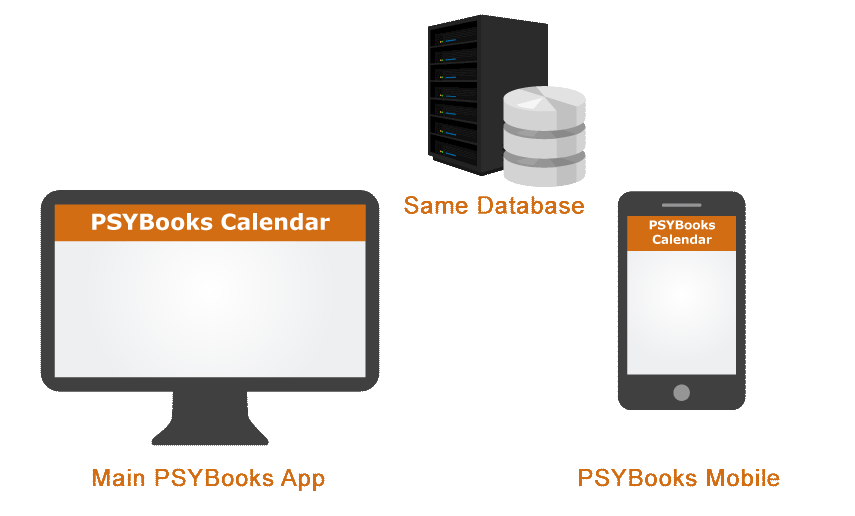 Main PSYBooks App
Regardless of the type of device you're using, you'll access the login page of main PSYBooks app if you enter this URL in your browser:
Although the main app CAN be used on phones, it's not recommended. It's too large and complex a site to be able to fit well on the small screens of phones.
PSYBooks Mobile
Alternately, if you want to access the login page for PSYBooks Mobile - again, no matter what kind of device you're on - use this URL:
https://mobile-secure.psybooks.com
Again, although Mobile can be used on your desktop, it's really made for use on phones. It's a complementary mobile site designed with the features you're most likely to need when you're away from your office.
Badges & Notifications
Badges & Notifications aren't essential for using PSYBooks Mobile. However, they are some nice additional features that some phones offer. Unfortunately, they don't work on all phones or operating systems. If they're not working on your phone, try Googling your phone and operating system to see if it allows home page badges and/or notifications with PWAs (Progressive Web Apps). Sometimes there's a way to accomplish the tasks on your phone manually. Unfortunately, although the PSYBooks support staff is excellent with understanding and supporting the PSYBooks app (including Mobile), they're not trained to solve issues that are specific to your phone.
Badges
Since PSYBooks Mobile is accessed via a browser rather than downloaded, it doesn't automatically create a badge for your phone's homepage like a downloaded app would. Android phones provide excellent support for PWAs, including allowing PWAs to create badges. When you first access PSYBooks Mobile on an Android device, you should get a screen like this: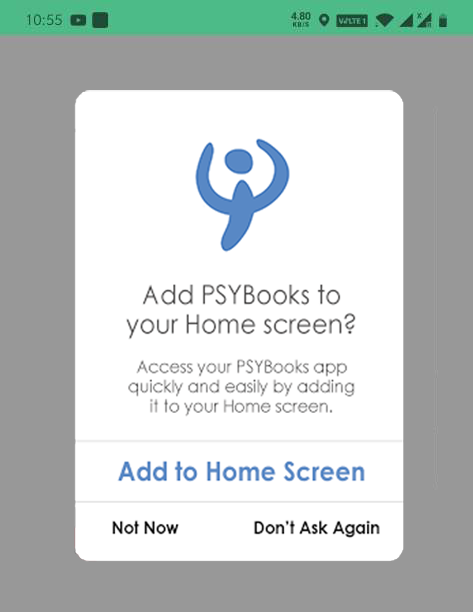 If you press "Yes," a badge will be added to your home screen, enabling you to access PSYBooks Mobile like you would any other mobile app.
Some iPhones can also add badges to the phone's home screen. However, you will not get an automated screen like the above to help you install it. You'll have to do some sleuthing if you want to do it - and not all iPhones have that ability.
Notifications
Notifications are only available on Android phones. Again, the first time you access the PSYBooks mobile app on your Android, you should get a screen like the one below.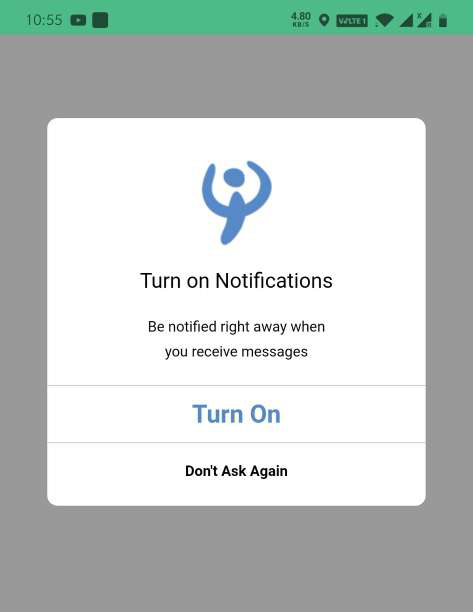 Turning on Notifications will allow you to be notified if one of your clients or other contacts sends you an encrypted text - just like you're notified of regular texts. Again, iOS does not have this feature.
What Can I Do On PSYBooks Mobile?
Hamburger Menu and Status Bar
Since the most likely things you may need to do when you're away from the office are to check (and/or change) your schedule and to communicate with your clients or other contacts, PSYBooks Mobile has two main areas - Calendar and Contacts. When you first login to PSYBooks Mobile, you'll be on the Calendar page. However, if you want to acces Contacts, you can use the Hamburber Menu on the black status bar at the top left: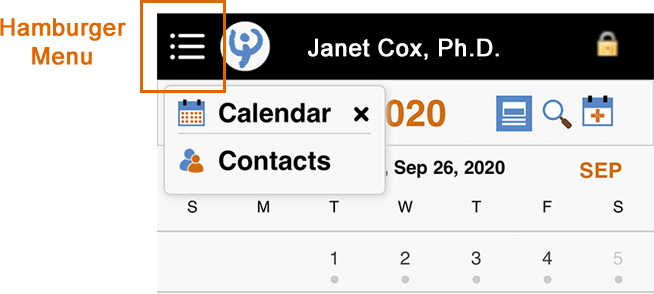 There are some additional important tools on the status bar, as can be seen below:

As in the regular PSYBooks app, the black status bar appears on each page in the app and holds tools you'll be able to access from anywhere. Numbers in the above screenshot snippet mean the following:
The Hamburger Menu, as discussed above.
The Home Page button. Clicking this from anywhere in the app will take you back to the home page.
Your name.
The logout button. Although you don't have to logout of the mobile app each time, doing so provides an extra layer of protection.
We'll now discuss the two main areas of PSYBooks Mobile that can be accessed from the hamburger menu: Calendar and Contacts.
Calendar
As mentioned above, when you first log in to PSYBooks Mobile, you're on one of the available views of the Calendar page. Specifically, you're on the monthly, split-screen view, which means you can see today's schedule at the bottom of the page, and the entire month at the top: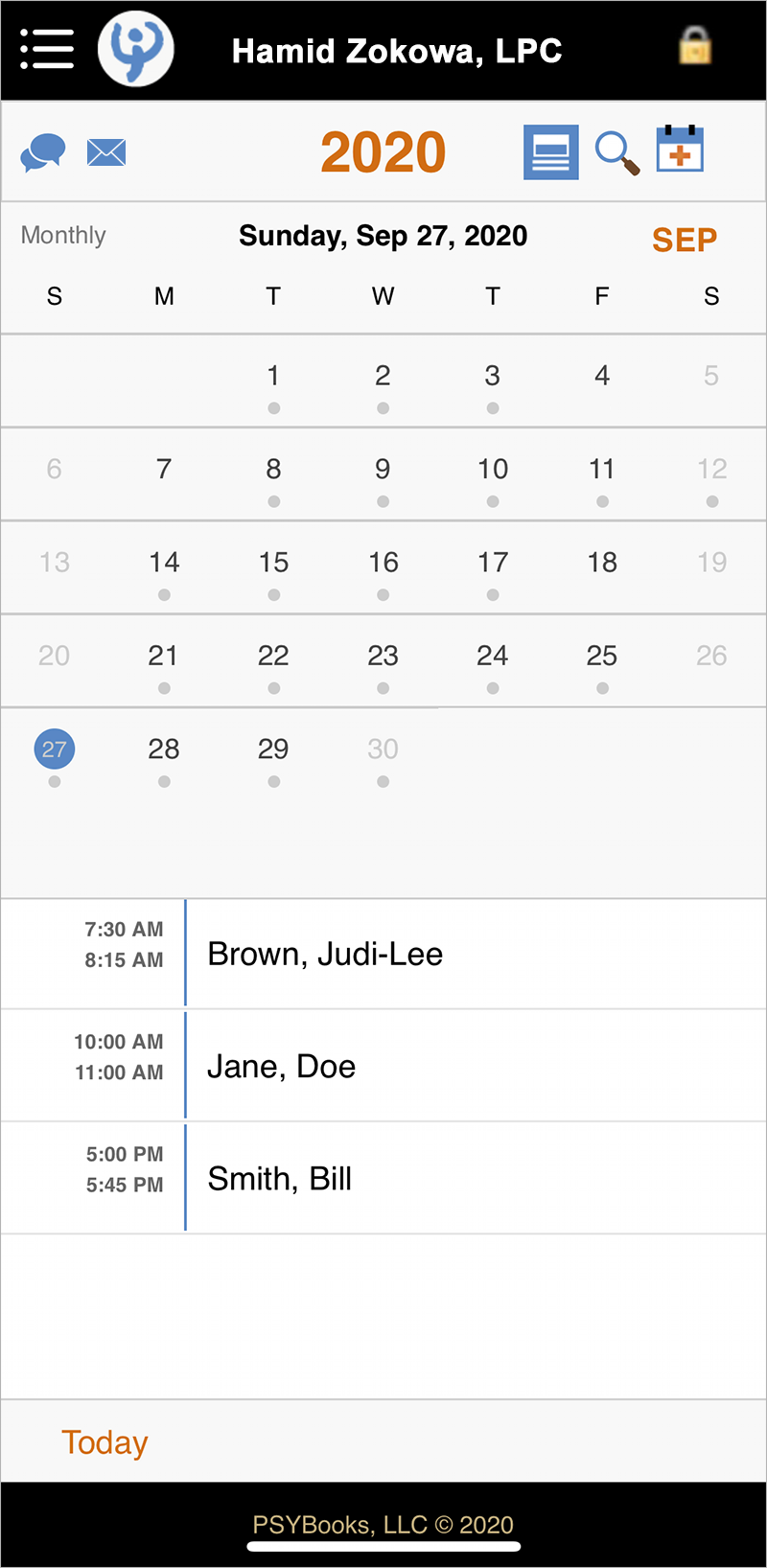 In the calendar portion of the split-screen, some dates have dots below them and others do not. Dates with dots indicate that there are appointments on that date. A date without a dot does not have any appointments: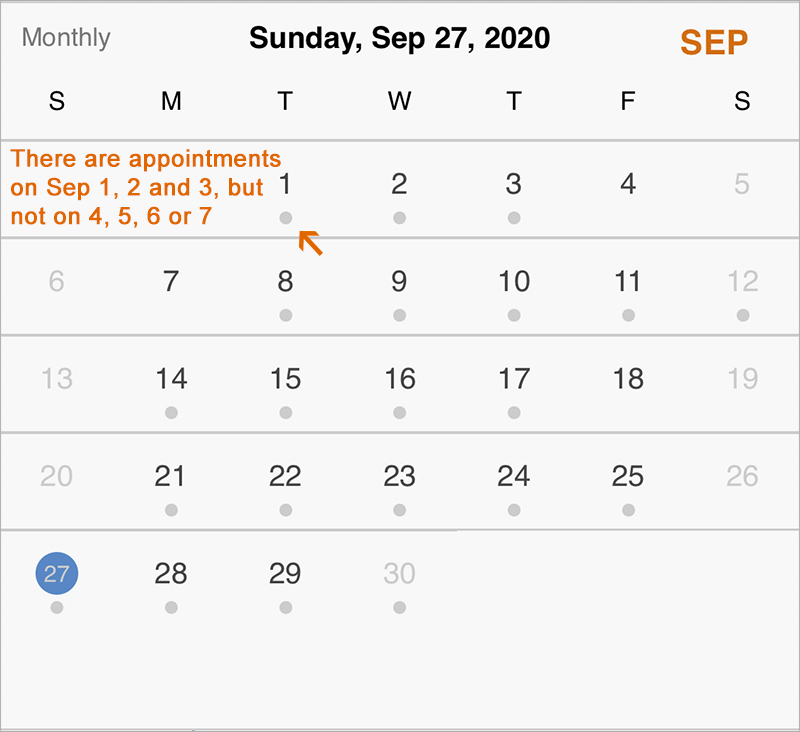 The blue circle indicates the selected date. If the selected date is also the current date, as in the screenshot above, the blue circle is the only one you'll have on your calendar. When the selected date is not the current date, the current date is indicated with an orange dot and the selected date is still blue: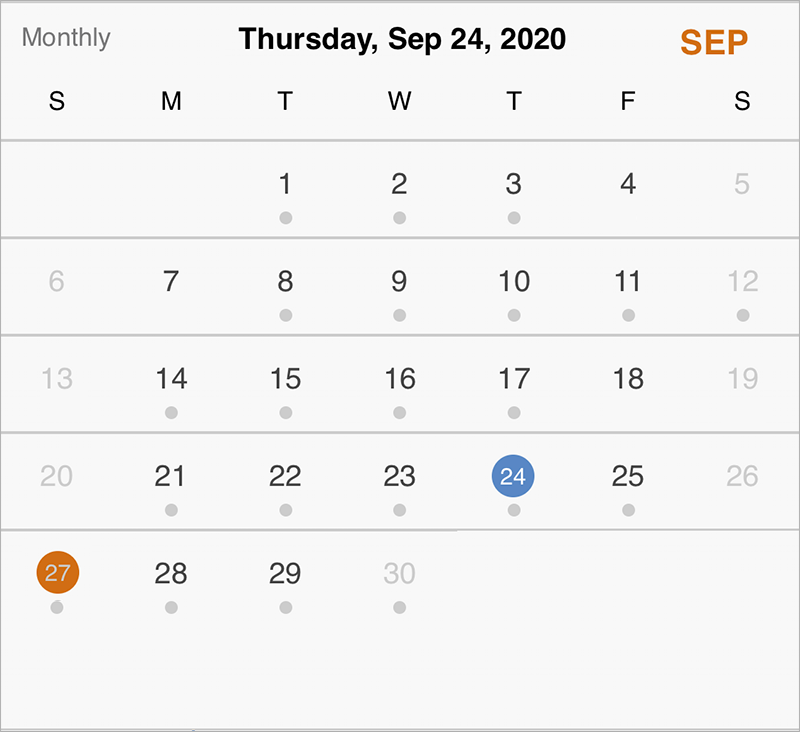 Notice that the date at the top reflects the selected date (Thursday, Sep 24, 2020) instead of the current date. If you want to see your appointments on a different date, just touch the date you need and that day's appointments will appear in the bottom half of the screen: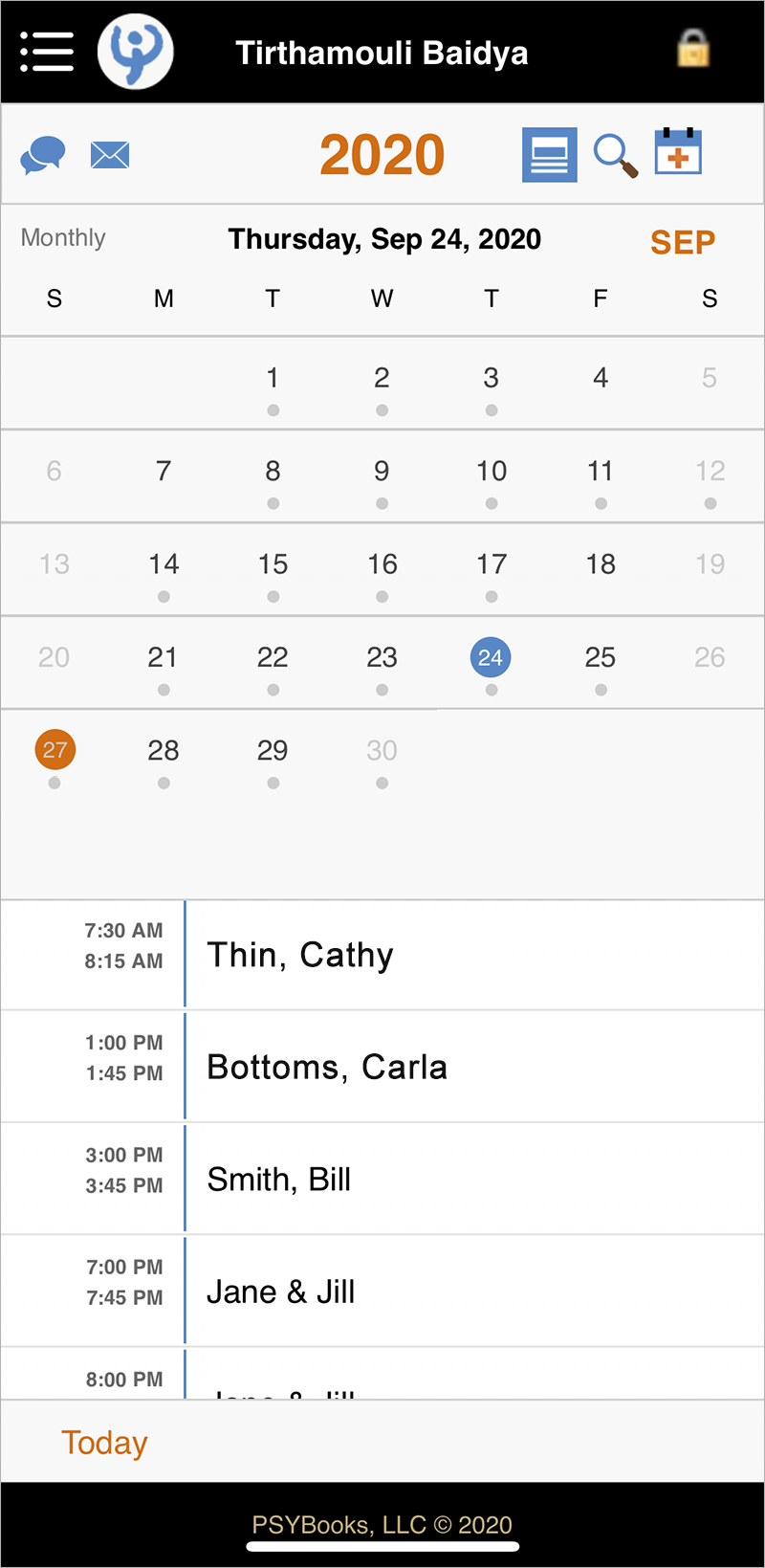 Global Tools on the Calendar Pages
The elements on the Status Bar were discussed above. The calendar pages also have two additional tool bars under the status bar that can be thought of as global nav tools. Dicussing those tool bars will give us a better understanding of the app as a whole.

Each of the numbered items above will be discussed separately below:
Chat/Encrypted Texting

This button goes to the "Recent Chats" page to allow you to check or follow up on any conversations you may have had. From that page, you can access all other chat tools, including starting a new chat. Chats will be discussed fully in the Contacts > Chat Access area below.

Selected Year

This shows you the selected year of date of the appointments you're viewing. In most cases, it will also be the current year. Also, as in the regular PSYBooks app, orange text typically indicates a link. That's true here. Clicking the year link will take you to the yearly Calendar view which looks like this:

You can swipe left or right on this page to access previous or future years. Also, if you press a date, you'll be taken to that date on your calendar.

Split Screen Toggle

This tool always keeps you in the split screen condition we saw on the home page (i.e., calendar on top - your schedule for that day on the bottom), but also, pressing it toggles between a monthly view of the calendar or a weekly one. The tool state shown above (with the blue background) is the monthly view, which is what's shown on the home screen. However, if you press it, the state of the icon changes (the blue background disappears) and only the current week is displayed. This may be helpful in enabling you to see more of your schedule without having to scroll.

Search

When you press the Search tool, a new area drops down over whatever page you were on. It looks like this:

Notice that both contacts and appointments will be searched and that you're given default beginning and ending dates. The default dates are three months before and three months after the current date. However, the dates are orange, meaning that they're links allowing you to change them. (You can also press the calendar to change a date - that does exactly the same thing as pressing a link.)

Once you get your dates the way you want them, you can enter as little or as much as you like in your search string. For example, the screenshot below is what was pulled up just by typing the letter "B" and pressing Go:

Notice that the search display is divided by Clients vs Others. "Others" might be other People, Events, Groups or Users you've added to your PSYBooks app. It could also be other PSYBooks subscribers if you have a GOI or Group account. Client names are links, which go to the Edit Client form. The calendar icons are used to indicate which of the contacts have appointments on your calendar during the date range that was searched. In the screenshot, Bill Smith does not have any appointments during that time frame but everyone else does. Clicking a calendar icon by a person's name will show that contact's appointments that fall within the selected date range:

Any contact that has at least one phone number will also have the first phone number listed for that individual shown in the search results. Clicking the phone link will open a new row with a phone icon which allows you to call that person:

Add Appointment

You can easily add appointments with your phone using PSYBooks Mobile. When you press the Add Appointment tool on the Calendar global nav, the form that opens looks like this:

The first thing to notice is that the field where you would normally add the contact's name is designated as a search field. In the screenshot below, the letter B was typed, and all the contacts with a "B" auto-populated the area below the search field:

If you see the contact you want, you can just select it. Or, if you type something that doesn't exist in your database, you'll be asked if you'd like to create a new contact:

Notice that there's also a link for "Show all contacts." Perhaps you know that the "Bx" you typed isn't correct and you'd like to see a list of ALL contacts so you can scroll through and find the one you're looking for. Clicking "Show all contacts" does just that:

All contacts in your PSYBooks database are now presented, allowing you to scroll through them. Each has the type of contact (Client, Other Person, Event, Group, etc.) listed on the right. Notice also that the "Show all contacts" link has become "Hide all contacts" if you still don't find what you want and need to just get this list out of your way.

You also always have the option of adding a new contact. For example, in any of the screens above that said, "Add Bx as a new contact?" - if we had pressed "Yes," we would have gotten a screen like this, asking us to select the type of contact we want to enter, i.e., a client or some other type of contact like another person, event, or group:

Once that selection is made, the correct form will open, allowing you to enter the new contact and then return to the Add Appointment form and finish adding your appointment as normal.

Status Indicator

This status indicator is just another way to remind you whether you're in the Monthly or Weekly calendar view. It works in direction conjunction with the Split Screen Toggle tool that was discussed above:

Selected Date

This shows you the date you're currently viewing. As discussed above, this may or may not also be today's date.

Switch to Monthly View

Again, since this text is orange, it's a link. If you press it, you dismiss the split screen mode and go into a monthly view that allows you to scroll through months until you find the one you need. Monthly View looks like this:

If you press the back arrow or the year link at the top left, it will take you to the Yearly View:

You can swipe left and right to change years. Clicking a specific date on the yearly view takes you back to the monthly view. Clicking a date on Monthly View goes to s split-screen view with that date's appointments.
View/Edit Appointment
You can enter the Edit Appointment mode from the View Appointment screen. You can open View Appointment by pressing any appointment in a split-screen mode or by pressing an appointment found using search: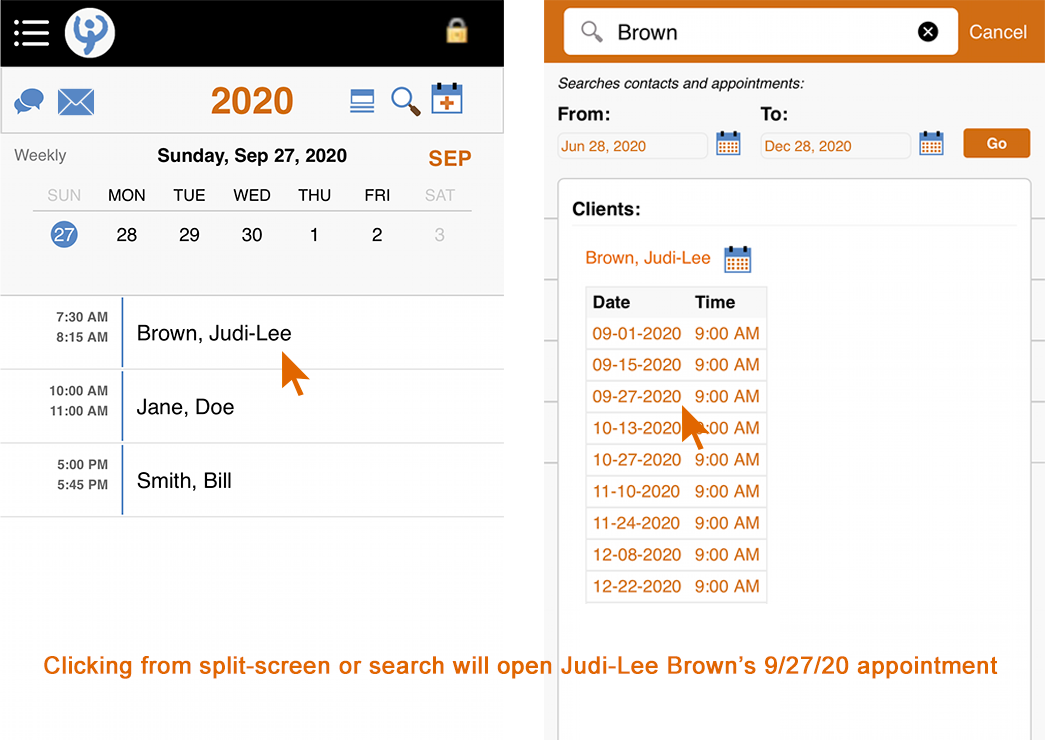 Once you've opened the appointment, you're in the View Appointment mode and the screen changes to this: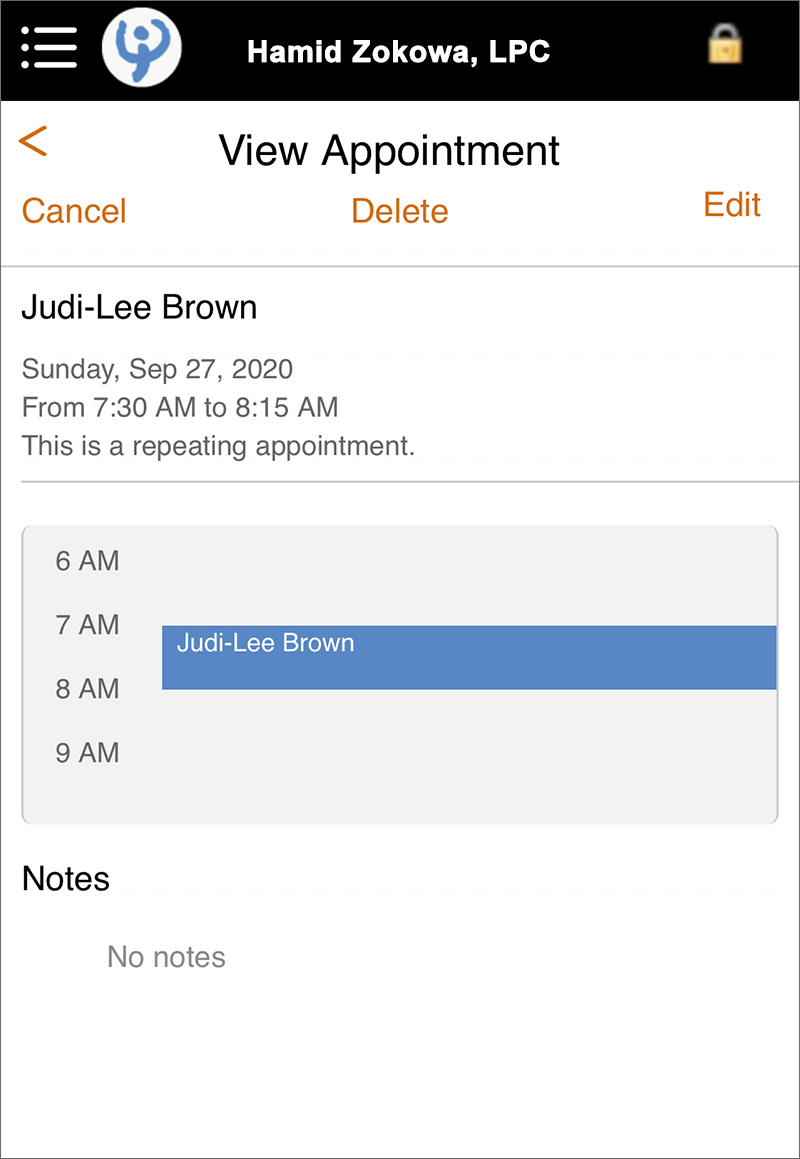 Looking at the organge links at the top, you can see that from this screen, you can Cancel, Delete or Edit the appointment. You can also see important information about the appointment, such as any notes you may have written and also whether it's a repeating appointment.
Start Video Session
When you're signed up for PSYBooks Video, you can start your sessions right from your phone using PSYBooks Mobile. The first step is to enter the View Appointment mode, such as was described above. When the appointment mode is Video, the View Appointment screen has a button which allows you to start the PSYBooks video session right from your phone: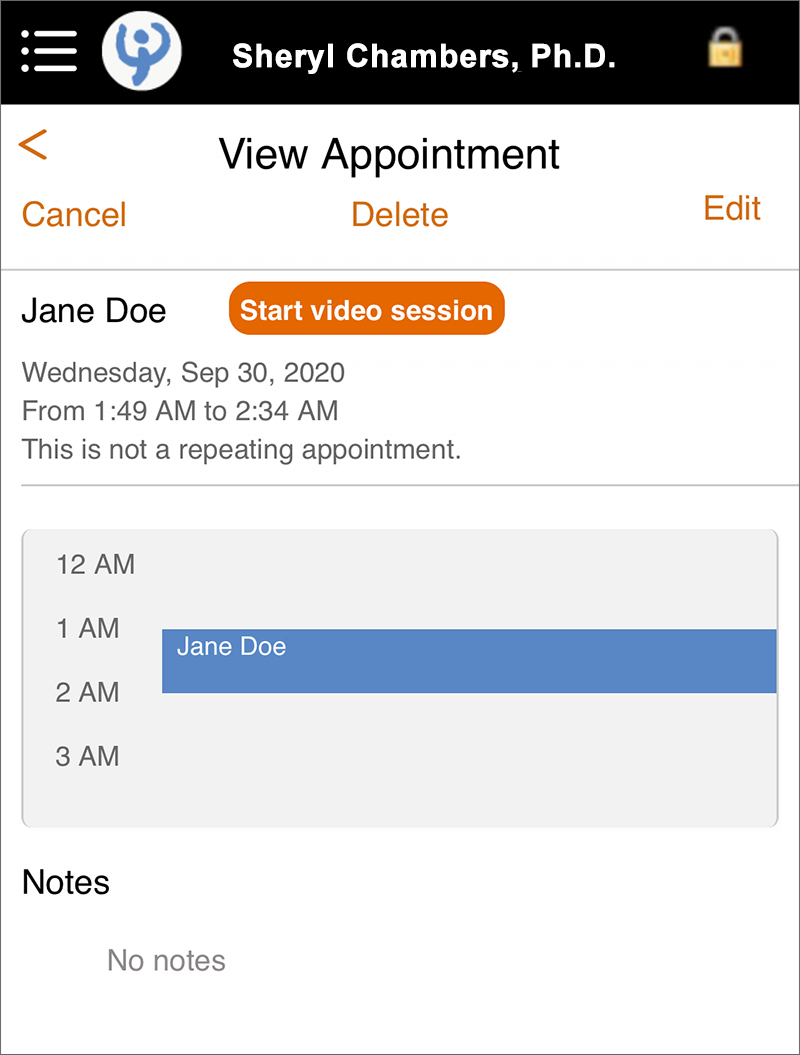 As you know, phone operating systems, versions and browsers are all different, so it's impossible to tell exactly what screens you and your patients will encounter the first time you try to conduct a video session via your mobile devices. However, the following section may give you some helpful problem-solving tips if you have difficulty:
What Should Happen

When you click the "Start video session" button on the screen above, you should be taken to the same Secure Video page you're used to seeing in the regular PSYBooks app:

From here, you'd just click the orange "Enter Meeting" button like you normally would and be in the video room. However, the first time you or your clients try accessing video sessions on the Mobile app, there may be some kinks to iron out. Hopefully the next section will help you troubleshoot, should things not go quite as expected.

Popup Blockers

If you click the "Start video session" button and nothing happens, it's more than likely because the browser you're using has a popup blocker enabled by default. You should get an error message at the bottom of the screen when this is what's causing it to not work:

Some mobile browsers block popups by default. The screenshot below - taken from an iPhone X - was found by going to Settings > Safari. As you can see, Safari had the popup blocker set to on:

This can easily be fixed by sliding the button to the "off" position. After you've done that, you should be able to go back to the View Appointment window in PSYBooks Mobile and start the video session. If you're not sure how to check the popup blocker settings in the browser you're using on your phone, try Googling it, including the name of the browser you're using, plus your phone type and version, for example: Chrome popup blocker Android 10.

Accepting Cookies/Downloading Zoom

If you haven't signed in to Zoom before on that particular device, you may get a screen similar to the one below, asking you to accept Zoom's cookies. Assuming you're OK with that, click "Got it!" to dismiss that part of the window.

You may also get this next screenshot, telling you that you you have to have Zoom downloaded on that device. This is supposed to be auto-detected (i.e., you should only get the screen below if you do NOT have Zoom downloaded.) However, if for some reason the auto-detect fails and you get this screen even though you have Zoom on your device, you can click "Not Now" to dismiss the screen. If you do NOT have Zoom on that device, you'll need to download it with the blue "Download Zoom" button.

Safe Driving Mode

Another screen you might get is something similar to the one below:

In this situation, the phone has detected the kind of motion to make it think you might be driving, so even though Zoom has opened and you're IN the chat (you can tell by the speaker icon on the left and the red "End" button on the right), it's in Safe Driving Mode, i.e., you can't see yourself or your client and your microphone is muted. Notice the two dots at the very bottom (outlined in orange). When you see dots at the bottom of a phone screen, it indicates that you should be able to swipe left or right and see other screens. In the situation above, swiping left produced this screen:

This still isn't the screen we want, however, if you click anywhere on this screen, it should open to the regular video layout you're accustomed to where you can see both yourself and your patient and be able to conduct your session.
Contacts
The other main area in PSYBooks Mobile is Contacts. When you first press "Contacts" from the Hamburger Menu, you'll get a page that looks like this: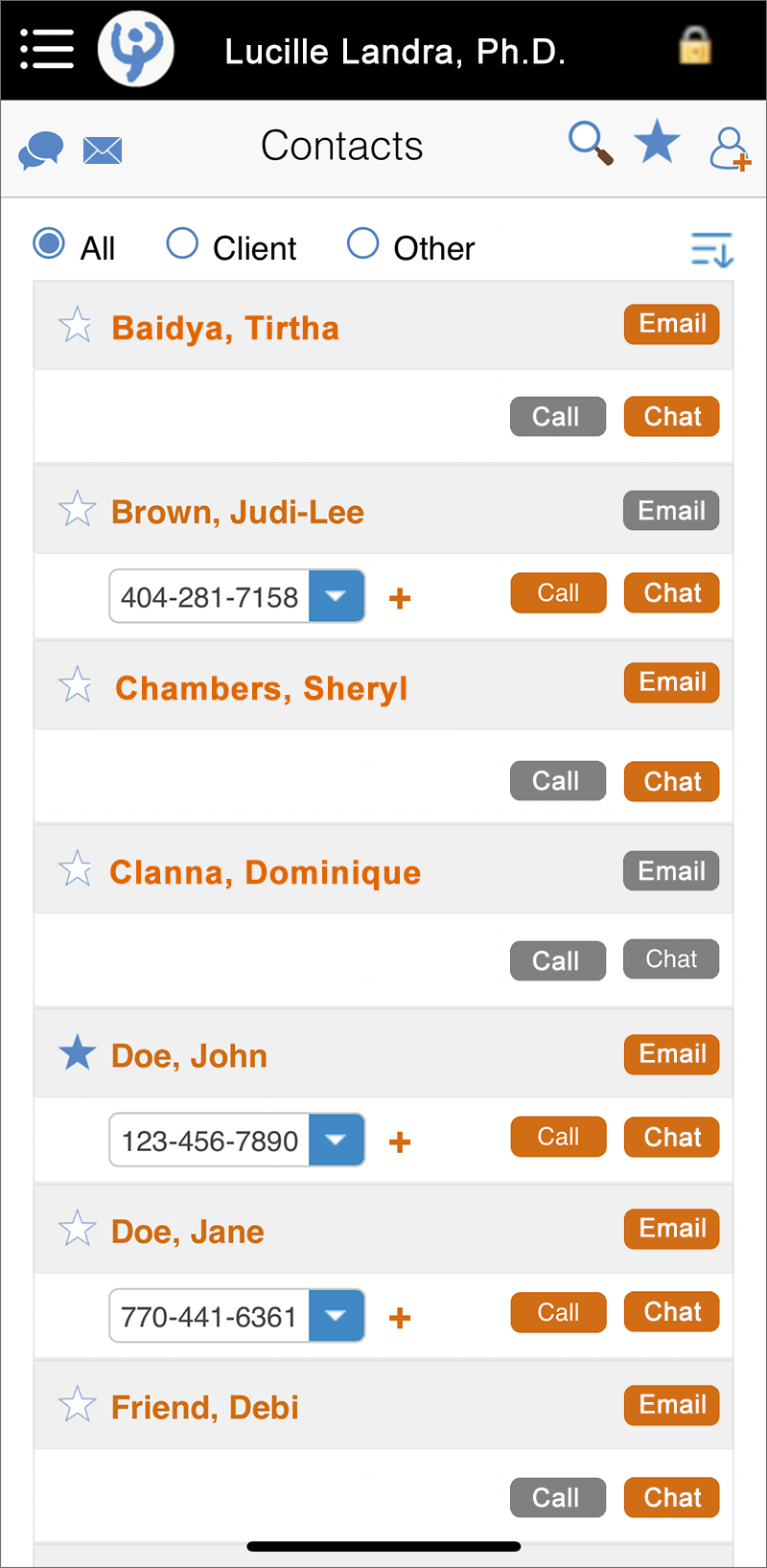 Global Tools on the Contacts Pages
Although the Status Bar on the screenshot above is the same as we saw in the Calendar section of PSYBooks Mobile, the global nav on the Contacts pages has changed to include tools that more closely pertain to working with contacts. It looks like this:

Each of the numbered items above will be discussed separately below:
Chat/Encrypted Texting Access

Chatting on PSYBooks Mobile is the equivalent of encrypted texting. The tool that appears on the Contacts global nav is exactly the same tool that appears on the Calendar global nav. Pressing it from either place will open the "Recent Chats" page to allow you to view any previous conversations you have had and also to start new chats. If you've been chatting a fair amount, your page might look something like this:

If you press one of the recent chats listed in the screenshot above, you can see the entire chat with that particiular individual or group.

Notice that chats/encrypted texts can be done with any of your contacts that can log in to PSYBooks Mobile. This would include anyone who's a Portal User plus Admins, and other Users and Subscribers. If you see couples and have them listed as a PSYBooks Group, you'll be able to text both at once by entering their group name.

Chats in PSYBooks Mobile are the equivalent of encrypted texting. If the user's phone is set up to receive notifications, they'll get a regular (non-encrypted) text telling them they have a new message in their PSYBooks Mobile account. Once they log in, they'll be able to see a screen with the encrypted text/chat.

Search

The Search tool in the Contacts area is also the same tool we saw in the Calendar global nav.

Favorites

The Favorites tool in the global nav allows you to view only those contacts whom you've previously marked as a Favorite. (We'll discuss how to add a Favorite below.) Using the global nav Favorites tool will allow you to quickly bring up those contacts with whom you communicate most often.

Add Contact

The Add Contact tool allows you to add contacts on the go - you're not tied to the device you use at the office. When you press the tool, this dropdown opens on top of the second row of the global nav:

Notice that, just like in the regular PSYBooks app, you're able to choose a contact type - either a Client, another type of Person, an Event or even a Group (including both video and non-video groups). Once you make your choice with the radio buttons, the correct form will open. This will allow you to use your PSYBooks Calendar as your only calendar, if you want. No need to keep one calendar for clients and another for other types of appointments since you can now access your PSYBooks calendar on your phone.

Remember that if you need to add a contact, you have to press the Add Contact tool FIRST. It can be easy to see the "All Client Other" radio buttons on the global nav and think that's what you press to add that type of contact. However, those radio buttons have a totally different function, which we'll discuss next.

Type of Contact

The "All Client Other" global nav radio buttons filter what list you see in the screen below. They have nothing to do with adding clients, but rather allow you to sort your existing contacts to only see the group you need. The mockup below shows what an "All" radio button might produce, vs the Client radio button. As you would expect, all clients appear in "All" but not all "All" contacts are clients:

If you select the "Other" radio button from the global nav, you get another dropdown area that allows you to refine your choice:

Again, these are "view" filters that determine what you see on your screen. For example, if you selected "Group" you'd see all Groups you've added in PSYBooks.

Notice that the Event contact type is not listed. That's because Events don't have email addresses or phones. Since there's no way to contact an Event, there's no need to display them on a Contacts page. If you need to create an event that you CAN contact, make it a Person contact type instead.

However, there IS a filter for Users, which will allow you to easily bring up the list of Users you've added to PSYBooks. You can't add a User from mobile. Users and also Subscribers have to be added from the regular PSYBooks app since they are more complex since you need to choose permissions. However, you can view them here and use Mobile to communicate with them.

Sort

This final global nav tool is a toggle that allows you to change the sort of the items you're viewing from A-Z (default) to Z-A (clicked).
Contacts Functionality
Now that we've discussed the global nav of the Contacts area, let's look at what you can actually DO in Contacts. Basically, the Contacts area of your PSYBooks Mobile app is designed to be a quick and easy way for you to contact anyone entered in your regular PSYBooks app in a way that's HIPAA compliant. Ever gotten stuck in traffic and realized you're going to be late for an appointment? It's times like that that these tools can help. Right now, the Contacts pages on Mobile allow you to call or chat with your clients. We'll be adding email soon for those of you who prefer email. Let's see how it works: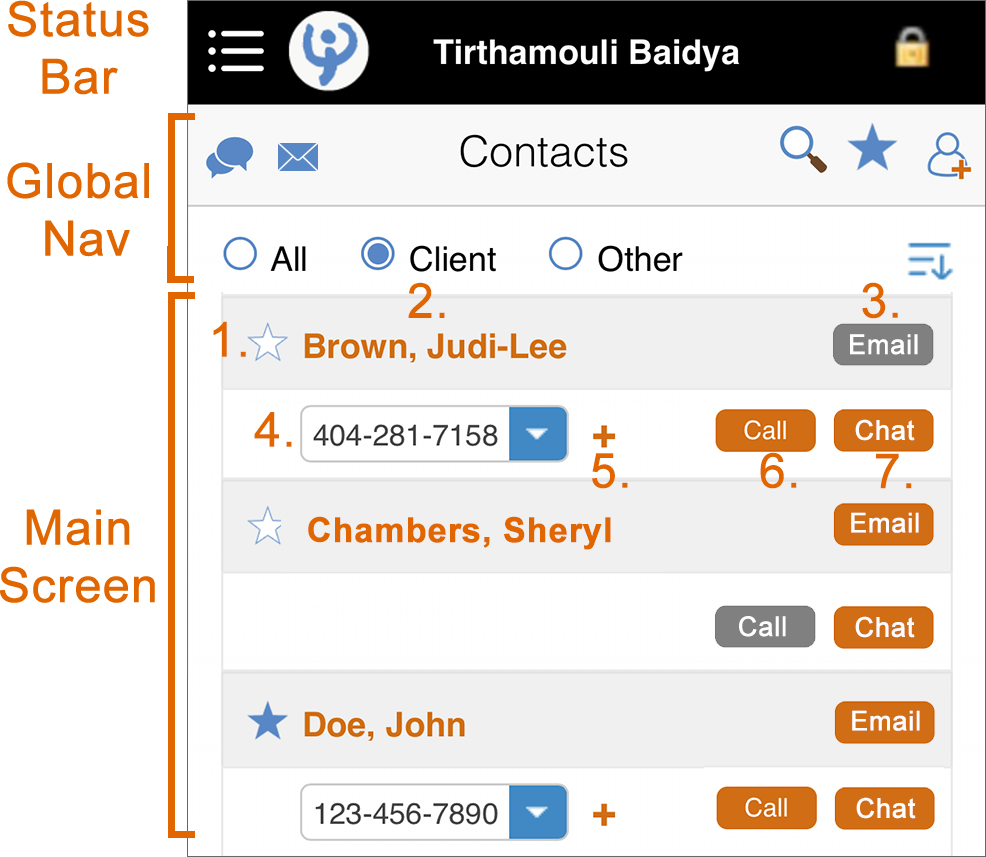 Mark/Unmark Favorite

The star in front of each contact's name is how you mark the contact as a Favorite. In the screenshot above, we can tell that Judi-Lee Brown has NOT been marked as a Favorite because her star is just an outline. But if you look farther down, John Doe and also Jose Gavin's names HAVE been marked as Favorites. That means that if you touch the Favorites tool in the Contacts Global Nav, John Doe's name would appear. These are toggle tools, which means if you touch the star of an item that's already Favorited, the Favorite status will be removed. Conversely, if you touch the star of an non-Favorited item, it will mark it as a Favorite.

Edit Contact

When the contact's name is in orange, it means that it's a link. Clicking it will open the edit form for that particular kind of contact (Client, Person, Group). Notice, however, that Users can NOT be edited in PSYBooks Mobile. They have to be added and edited from the regular app. So from looking at this list, we can assume that Jose Gavin is a User, not a Client or a Person type of contact, since his name is not a link.

(Currently Persons are also not links. However, the Edit Person feature will be added soon.)

Select Phone

When the contact has at least one phone number listed in their chart, a phone select box will appear under their name. If they have more than one phone number, you can use the select box to choose the one you want. Once you have the correct phone number, press "Call" to place a call to that number.

Notice that Sheryl Chambers has an "Add Phone" link under her name instead of a phone select box. That's because there's currently no phone attached to her name. Clicking the Add Phone link will allow you to add one. And since Mobile always syncs with the main PSYBooks app, adding it here will also add it there.

Add Phone

Assuming a contact has at least one phone number, a + will appear beside the select box. Pressing the plus sign will allow you to add another number for that individual.

Again, Sheryl Chambers does not have the Add Phone + because she doesn't yet have any phone numbers attached to her name. Once a single phone for her is added, the plus will appear to allow you to add additional phones.

Place Call

Once you've selected the phone number you wish to call, pressing the Call button will place the call - right from your mobile app. Individuals without phone numbers listed also do not have Call buttons until you add a phone number for them.

Start a Chat

Notice that some of the Chat buttons are orange and others are gray. Active Chat buttons are orange - indicating you can use them. Conversely, when a chat button is gray, it means that Chat is disabled for that individual. To understand the difference, it's important to realize that the entire PSYBooks Mobile app is encrypted and HIPAA-compliant. Part of what makes it that way is that to use it, you have to sign in. Although you COULD chat with any individual on your Contact list that had a phone, it would be no better than normal texting. It wouldn't comply with HIPAA.

For that reason, the chatting/texting feature in PSYBooks Mobile is only available to those who can sign in to the app. That includes Portal Users and also any Users or Subscribers on your PSYBooks account. In the mockup, we know that Jose Gavin must be either a User or a Subscriber since his name is not a link. (Neither Users nor Subscribers can be edited from Mobile.) Since both Users and Subscribers have their own sign-in credentials to the PSYBooks app, the Chat/Text feature is always activated for them.

In contract, both John Doe and Judi-Lee Brown's names ARE links, meaning that they're some other type of contact - perhaps Clients or Persons. However, Judi-Lee has a gray chat button, indicating that it's NOT possible to chat with her. The subscriber CAN chat with John Doe, however, since his Chat button is orange. The difference is that John Doe is a Portal User, whereas Judi-Lee is not. If you want to chat with Judi-Lee, you'd have to go to your regular PSYBooks app and send her a Portal User invite. Once she accepts, the two of you will be able to have encrypted chats in Mobile.
What Clients See
The mobile site for your clients - as well as any other Person contacts you've created - is not the same as yours. They have access to a calendar, but it only has their appointments on it - no one else's. They also have chat tools, but they can only chat with people they're already connected with. This will always be the subscriber, and may also be any Admin Users who have access to their charts in the regular app. Finally, if the client is a member of a group, all members of their group will be contacts with one another, which will enable group chats.
What Users See
In contrast, by definition, Users (typically Admins) have access to your site. They do not have their own sites. For this reason, when a User signs in to Mobile, they will be accessing your mobile site.