Manual Index
Chapters

The Manual is divided into seven chapters. Click a chapter title to display that chapter's table of contents in the area below.
PSYBooks Manual
Chapter Four
The Client Onboarding Tool
The Client Onboarding Tool is the easiest way to add new clients to PSYBooks and get them set up with the tools they'll need to facilitate and maximize their interactions with you. Client Onboarding is one of the Fast-Track It! tools

and it includes all three Fast-Track features: the Portal User Invite, the Profile Form and a separate folder for each client in your encrypted email page. The Onboarding Tool is found on the My Files & Templates page. It looks like this:

You can read about the Onboarding Tool below and/or watch this short video:
The thing that makes the Client Onboarding Tool so easy is that you only have to enter the client's name and email address to launch all three of the processes above. As you can see in this closeup image, there are two ways to use the tool - either by manually entering each name and email address or by uploading a .csv file with the names and email of your entire caseload: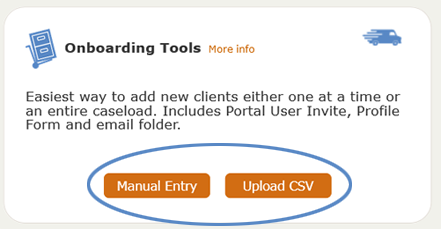 Although the Manual Entry tool is usually better when you only need to enter a small number of patients whereas the CSV tool may be faster when you need to enter many at once, there are other reasons why you might want to use one or the other. Both tools are easy to use and both accomplish exactly the same goal. Each will be discussed below.